Martin Kemp's "science in culture" column in this week's Nature – Heaven in grains of sand (subscription required) – brings our attention to a collaboration between nanoscientists at UCLA and some Tibetan monks. This installation – Nanomandala – is based on a Tibetan mandala – a symbolic representation of the cosmos built up from individual grains of sand; nanoscientist Jim Gimzewski responds to the mandala by using optical and scanning electron microscopy to reveal its features on finer and finer scales, culminating in the molecular. In the resulting video installation by Victoria Vesna "visitors watch as images of a grain of sand are projected in evolving scale from the molecular structure of a single grain to the recognizable image of a pile of sand. On the atomic scale the sand particles are like atoms, but a thousand of times smaller. From a bottom-up method of visual image building, a sand mandala slowly emerges."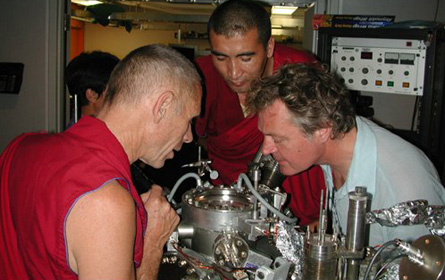 Tibetan monks working with UCLA nanoscientist Jim Gimzewski
My own knowledge of Tibetan Buddhism (or indeed any other kind) is of the very superficial kind that came from growing up as a would-be bohemian teenager in provincial Britain – in Van Morrison's words, "I went home and read my Christmas Humphreys book on Zen". But I rather agree with Martin Kemp's conclusion: "There is something very beautiful and moving in this holy alliance of Buddhist spiritual patience, founded on minute care and untiring repetition, and the unholy processes of iteration of which modern computers are capable. The mandala-makers and the nanoscientists share the wonder of scale, involving countless parts to compose the ordered whole." The allusion to Blake that Kemp makes in the title of his piece makes the connection to Western mysticism too:
"To see a world in a grain of sand and heaven in a wild flower, Hold infinity in the palms of your hand and eternity in an hour"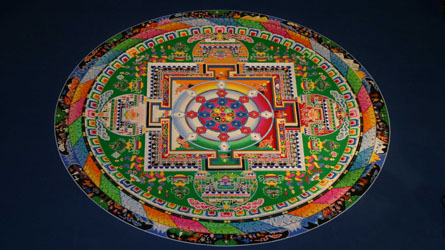 An 8ft sand mandala created at the Los Angeles County Museum of Art as part of the Nanomandala project.