It currently costs about a million dollars to sequence an individual human genome. One can expect incremental improvements in current technology to drop this price to around $100,000, but the need that current methods have to amplify the DNA will make it difficult for this price to drop further. So, to meet a widely publicised target of a $1000 genome a fundamentally different technology is needed. One very promising approach uses the idea of threading a single DNA molecule through a nanopore in a membrane, and identifiying each base by changes in the ion current flowing through the pore. I wrote about this a couple of years ago, and a talk I heard yesterday from one of the leaders in the field prompts me to give an update.
The original idea for this came from David Deamer and Dan Branton, who filed a patent for the general scheme in 1998. Hagan Bayley, from Oxford, whose talk I heard yesterday, has been collaborating with Reza Ghadiri from Scripps, to implement this scheme using a naturally occuring pore forming protein, alpha-hemolysin, as the reader.
The key issues are the need to get resolution at a single base level, and the correct identification of the bases. They get extra selectivity by a combination of modification of the pore by genetic engineering, and insertion into the pore of small ring molecules – cyclodextrins. At the moment speed of reading is a problem – when the molecules are pulled through by an electric field they tend to go a little too fast. But, in an alternative scheme in which bases are chopped off the chain one by one and dropped into the pore sequentially, they are able to identify individual bases reliably.
Given that the human genome has about 6 million bases, they estimate that at 1 millisecond reading time per base they'll need to use 1000 pores in parallel to sequence a genome in under a day (taking into account the need for a certain amount of redundancy for error correction). To prepare the way for commercialisation of this technology, they have a start-up company – Oxford NanoLabs – which is working on making a miniaturised and rugged device, about the size of a palm-top computer, to do this kind of analysis.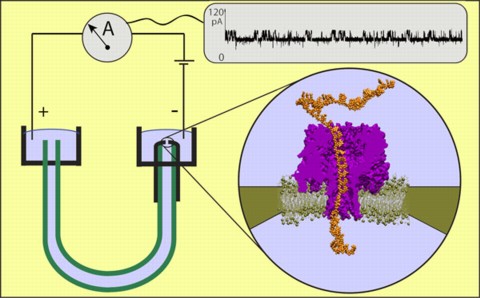 Schematic of a DNA reader using the pore forming protein alpha-hemolysin. As the molecule is pulled through the pore, the ionic conduction through the pore varies, giving a readout of the sequence of bases. From the website of the Theoretical and Computational Biophysics group at the University of Illinois at Urbana-Champaign.