Tomorrow I'm giving a public lecture in the Garrick Theatre, Lichfield, under the auspices of the Lichfield Science and Engineering Society. Non-members are welcome.
Lichfield is a small city in the English Midlands; it's of ancient foundation, but in recent times has been eclipsed by the neighbouring industrial centres of Birmingham and the Black Country. Nonetheless, it should occupy at least an interesting footnote in the history of science and technology. It was the home of Erasmus Darwin, who deserves to be known for more than simply being the grandfather of Charles Darwin. Erasmus Darwin (1731 – 1802) was a doctor and polymath; his own original contributions to science were relatively slight, though his views on evolution prefigured in some ways those of his grandson. But he was at the centre of a remarkable circle of scientists, technologists and industrialists, the Lunar Society, who between them laid many of the foundations of modernity. Their members included the chemist, Joseph Priestly, discoverer of oxygen, Josiah Wedgwood, whose ceramics factory developed many technical innovations, and Matthew Boulton and James Watt, who between them take much of the credit for the widespread industrial use of efficient steam power. In attitude they were non-conformist in religion – Priestley was a devout Unitarian, who combined thoroughgoing materialism with a conviction that the millennium was not far away, but Erasmus Darwin verged close to atheism. Their politics was radical – dangerously so, at a time when the example of the American and French revolutions led to a climate of fear and repression in England.
The painting depicts another travelling science lecturer demonstrating the new technology of the air pump to a society audience in the English Midlands. The painter, Joseph Wright, from Derby, was a friend of Erasmus Darwin, and the full moon visible through the window is probably a reference to the Lunar Society, many of whose members Wright was well acquainted with. Aside from its technical brilliance the painting captures both the conviction of some in those enlightenment times that public experimental demonstrations would provide a basis of agreed truth at a time of political and religious turbulence, and, perhaps, a suggestion that this knowledge was after all not without moral ambiguity.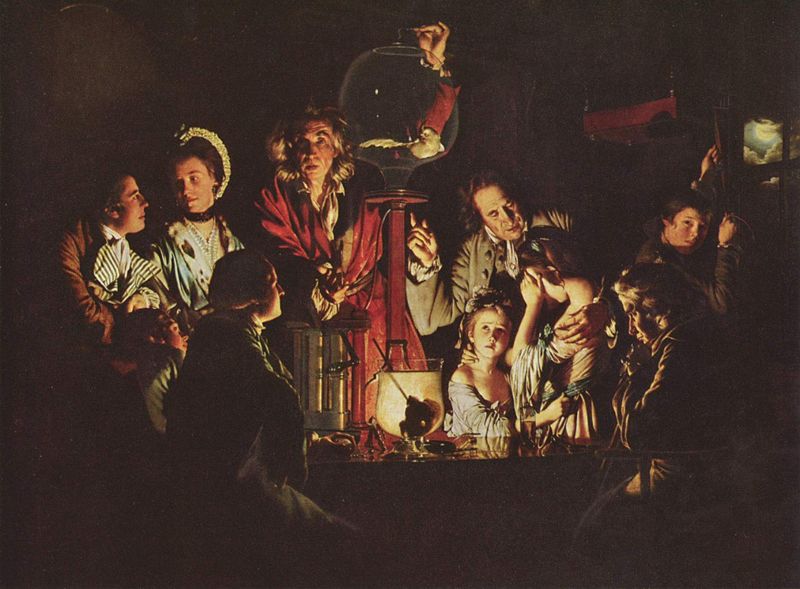 An experiment on a bird in an air pump, by Joseph Wright, 1768. The original is in the National Gallery.