It's impossible for a government to talk about industrial strategy in the UK without mentioning British Leyland, the auto conglomerate effectively nationalised after going bankrupt in 1975, and which finally expired in 2007. As everyone knows British Leyland illustrates the folly of governments "picking winners", which inevitably produces outcomes like cars with square steering wheels. So it's not surprising that the government's latest discussion document Green Paper: Building our Industrial Strategy begins with a disclaimer – this isn't a 1970's industrial strategy, but a new vision, a modern industrial strategy that doesn't repeat the mistakes of the past.
The document isn't actually a strategy yet, and it's a stretch to describe much of it as new. But it is welcome, nonetheless; its analysis of the UK economy's current position is much more candid and clear-sighted about its problems than previous government documents have felt able to be. Above all, the document focuses on the UK's lamentable recent productivity performance (illustrated in the graph below), and the huge disparities between the performances of the UK's different regional economies. It puts science and innovation as the first "pillar" of the strategy, and doesn't pull punches about the current low levels of both government and private sector support for research.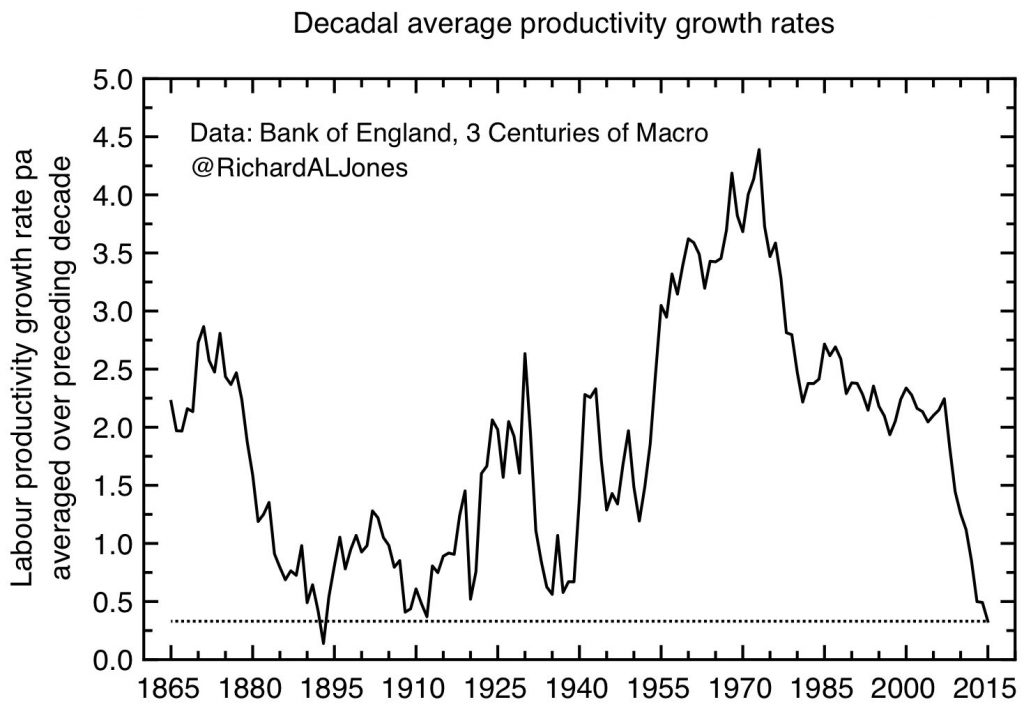 UK Productivity has grown less over the last ten years than over any previous decade since the late 19th century. Decadal average labour productivity growth, data from Thomas, R and Dimsdale, N (2016) "Three Centuries of Data – Version 2.3", Bank of England
It is a consultation document, and unlike many such, the questions don't give the impression that the answer is already known – it does read as a genuine invitation to contribute to policy development. And what is very welcome indeed are the strong signals of high level political support: the document was launched by the Prime Minister, as "a critical part of our plan for post-Brexit Britain", and as an exemplar of a new, active approach to government. This is in very sharp contrast to the signals coming out of the previous Conservative government.
How should we judge the success of any industrial strategy? Again, the strategy is admirably clear about how it should be judged – the Secretary of State states the objective as being "to improve living standards and economic growth by increasing productivity and driving growth across the whole country."
I agree with this. There's a corollary, though. Our existing situation – stagnant productivity growth, gross regional disparities in prosperity – tells us this – whatever we've been doing up to now, it hasn't worked.
Industrial strategy over the decades
This is where it becomes important to look at what's proposed in the light of what's gone before. Continue reading "Steps towards an industrial strategy"