This is the outline of a brief talk I gave as part of the launch of a new Research on Research Institute, with which I'm associated. The session my talk was in was called "PRIORITIES: from data to deliberation and decision-making
. How can RoR support prioritisation & allocation by governments and funders?"
I want to focus on the idea of scientific productivity – how it is defined, and how we can measure it – and whether it is declining – and if it is, what can we do about it?
The output of science increases exponentially, by some measures…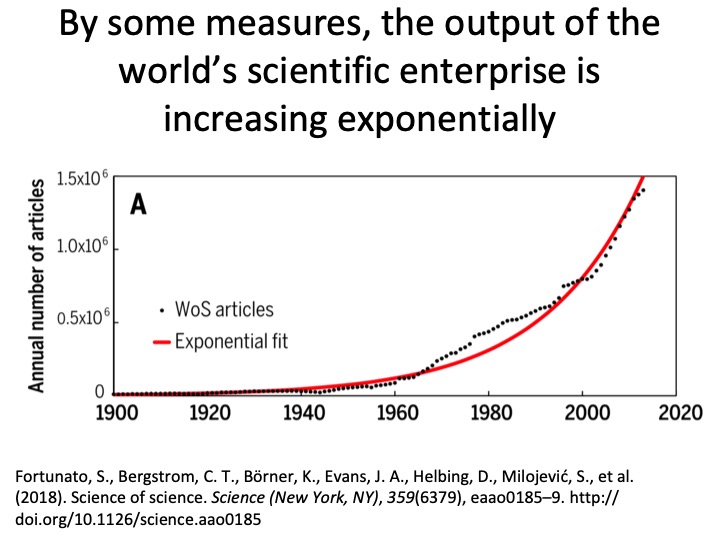 …but what do we get back from that? What is the productivity of the scientific enterprise – the output of the enterprise, as defined by some measure of the output of science per unit input?
It depends on what we think the output of science is, of course.
We could be talking of some measure of the new science being produced and its impact within the scientific community.
But I think many of us – from funders to the wider publics who support that science – might also want to look outside the scientific community. How can we measure the effectiveness with which scientific advances are translated into wider socio-economic goals? As the discourses of "grand challenges" and "mission driven" research become more widely taken up, how will we tell whether those challenges and missions have been met?
There is a gathering sense that the productivity of the global scientific endeavour is declining or running into diminishing returns. A recent article by Michael Nielsen and Patrick Collison asserted that "Science is getting less bang for its buck", while a group of distinguished economists have answered in the affirmative their own question: "Are ideas getting harder to find?" This connects to the view amongst some economists, that we have seen the best of economic growth and are living in a new age of stagnation.
Certainly the rate of innovation in some science-led industries seems to be slowing down. The combination of Moore's law and Dennard scaling which brought us exponential growth in computing power in the 80's and 90's started to level off around 2004 and has since slowed to a crawl, despite continuing growth in resources devoted to it. Continue reading "What do we mean by scientific productivity – and is it really falling?"