Was the industrial revolution an energy revolution, in which the energy constraints of a traditional economy based on the power of the sun were broken by the discovery and exploitation of fossil fuel? Or was it an ideological revolution, in which the power of free thinking and free markets unlocked human ingenuity to power a growth in prosperity without limits? Those symbols of the industrial revolution – the steam engine, the coke-fuelled blast furnace – suggest the former, but the trend now amongst some economic historians is to downplay the role of coal and steam. What I think is correct is that the industrial revolution had already gathered much momentum before the steam engine made a significant impact. But coal was central to driving that early momentum; its use was already growing rapidly, but the dominant use of that coal was as a source of heat energy in a whole variety of industrial processes, not as a source of mechanical power. The foundations of the industrial revolution were laid in the diversity and productivity of those industries propelled by coal-fuelled process heat: the steam engine was the last thing that coal did for the industrial revolution, not the first.
What's apparent, and perhaps surprising, from a plot of the relative contributions of coal and firewood to England's energy economy, is how early in history the transition from biomass to fossil fuels took place. Using estimates quoted by Wrigley (a compelling advocate of the energy revolution position), we see that coal use in England grew roughly exponentially (with an annual growth rate of around 1.7%) between 1560 and 1800. The crossover between firewood and coal happened in the early seventeenth century, a date which is by world standards very early – for the world as a whole, Smil estimates this crossover only happened in the late 19th century.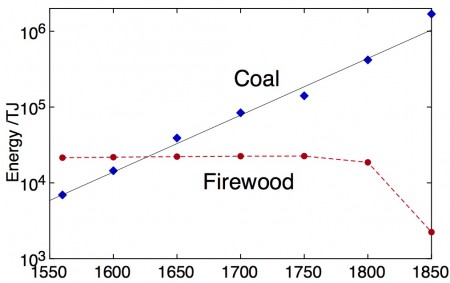 Estimated consumption of coal and biomass fuels in England and Wales; data from Wrigley – Energy and the English Industrial Revolution.
So why did coal use become so important so early in England? Continue reading "England's early energy transition to fossil fuels: driven by process heat, not steam engines"