Perhaps no single number is more important to the world economy than the price of oil. Modern economies depend on energy, and oil remains our largest energy source, supplying 31% of the world's energy needs (another 21% comes from gas, whose price now moves quite closely with oil). And yet, huge movements in this number seemingly take experts by complete surprise.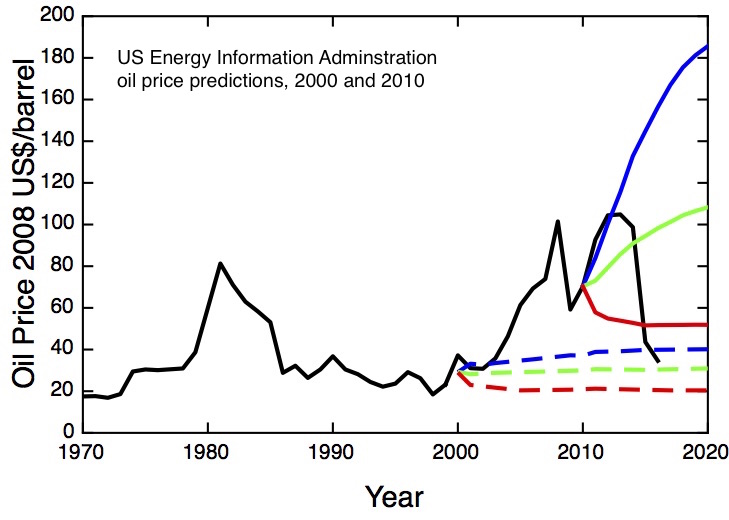 The price of oil in constant 2008 dollars, compared with the US Energy Information Authority predictions from 2000 and 2010. Data from the EIA.
My graph shows how the price of oil, corrected for inflation, has changed in the last 45 years. This is an updated version of the plot I blogged about five years ago; I included the set of predictions that the US Energy Information Administration had made in 2000. Just a few years later, these predictions were made nugatory by a large, unanticipated rise in oil prices. The predictions the EIA made ten years later, in 2010, had learnt one lesson – they included a much bigger spread between the high and low contingencies, amounting to more than a factor of three by the end of the decade. Now, only halfway into the period of the prediction, we see that the way oil prices turned out has so far managed both to exceed the high prediction and to undershoot the low one.
These gyrations mean that views that were conventional wisdom just a couple of years ago have to be rethought. Continue reading "Nobody knows anything (oil price edition)"