The UK's Office of National Statistics today released the latest figures for labour productivity, to the end of 2015. This shows that the apparent recovery in productivity that seemed to be getting going half way through last year was yet another false dawn; productivity has flat-lined since the financial crisis, with the Q4 2015 value actually below the peak achieved in 2007. This performance puts us on track for the worst decade in a century. Poor productivity growth translates directly into stagnating living standards and lower tax revenues for the government, meaning that, despite austerity, all their efforts to eliminate the fiscal deficit will be in vain.
As this is perhaps the most serious economic problem currently facing the UK, it's good to see the issue becoming more widely discussed. It's an issue I've been thinking about for some time; my post on the political implications of the productivity slowdown, as revealed by this March's budget and its aftermath, is here: The political fallout of the UK's productivity problem. Last summer, I wrote a series of blogposts exploring the origins of this productivity slowdown. I've written a draft paper based on a substantially revised and updated version of those posts:
Innovation, research, and the UK's productivity crisis (1.4 MB PDF).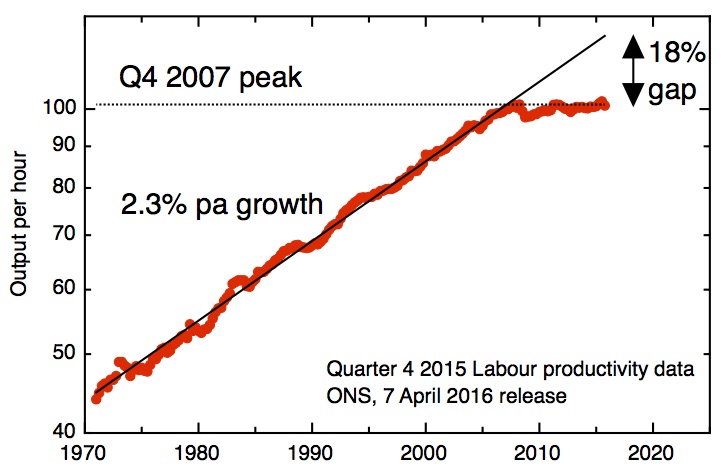 Labour productivity: output per hour. ONS Labour Productivity Dataset, 7 April 2016.