One positive feature of the Autumn Statement that the Chancellor of the Exchequer presented yesterday was that he gave unprecedented prominence to the UK's serious productivity problem. What was less positive was that he had no analysis of where the problem comes from, and his proposed measures to address it are entirely inadequate.
This matters. Our ability to harness technological and other improvements to produce more value from the same inputs is the only fundamental driver for real wage increases; productivity growth drives living standards. And we rely on productivity growth to meet the future promises we're making now – to grow our way out of our debts, and to pay for our future pensions.
In 2007, productivity had been growing steadily at 2.2% a year since before 1970. That ended with the financial crisis; in the 7 years since it has barely risen at all. The government, and its independent forecasters, the Office of Budgetary Responsibility, have spent that time confidently expecting an upturn, a resumption of the pre-crisis growth rate. But that upturn has never arrived. My plot shows that history; this shows the successive OBR predictions for a resumption of productivity growth, together with the successive disappointing outcomes.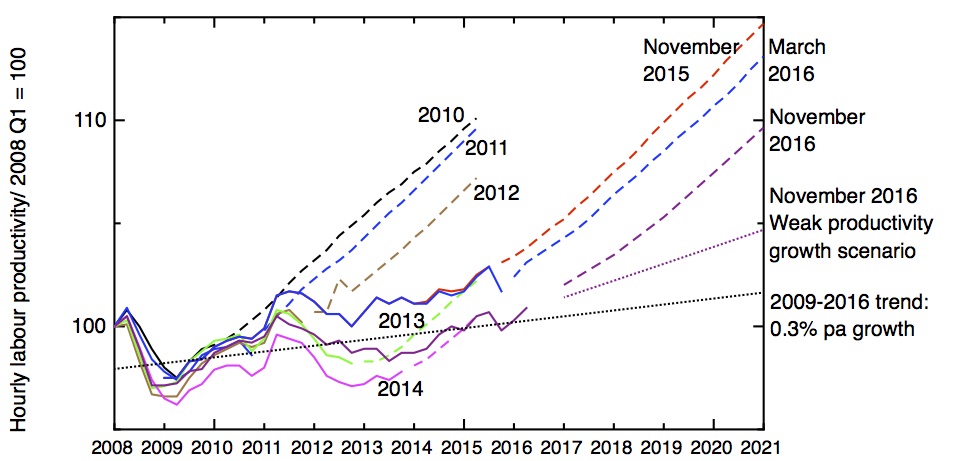 Labour productivity according to the successive Office of Budgetary Responsibility's Economic and Fiscal Assessments for the years indicated, showing estimates of productivity up to the time of publication of each report (solid lines), and predictions for the future (dotted lines). Data for 2010-2014 from the October 2015 OBR Forecast Evaluation Report, for 2015 and March 2016 from the March 2016 OBR Economic and Fiscal Outlook, and November 2016 from the November 2016 OBR EFO.
After seven years of anomalously slow productivity growth, it's time to face facts and acknowledge this isn't an anomaly, it's the new normal. Continue reading "Time to face facts about the UK's productivity stagnation"