When someone asks me "where do you come from", my reply is generally "I'm Welsh. A Welsh Jones. Descended from a long line of Joneses" (and Lewises and Williamses and Howells and so on). But then I have to qualify this, not least because I don't sound Welsh: I sound like someone who's spent 15 years in Cambridge (with maybe a bit of east midlands/Yorkshire influence). I was born in England (Stamford, Lincolnshire); my father had left Wales to join the Air Force, so my early childhood was spent trailing around a series of RAF bases in the Midlands and Eastern England. It was only after I finally left home that my parents moved back to Wales. The only time I properly lived in Wales myself was for a year in 1967, an experience that was so alienating and unhappy that, even though it was a short time, and a long time ago, it colours my emotional response to that part of North Wales, the Lleyn Peninsular.
The circumstances were this – after a couple of postings in East Anglia, my father was sent abroad, to help with what turned out to be the shambolic and violent end of one corner of the British Empire, in Aden, now in the Yemen. Aden was then a Crown Colony, a strategic port and military base for the British, usefully placed on the way to India and the Far East. Britain's retreat from Empire reduced the port city's value, but through the mid-1960's a worsening insurgency had destabilised the British's attempt to install a friendly government before they left. By 1967 parts of the city were alternately a no-go zone for the British troops, then being reoccupied with some brutality. Finally (and I think uniquely in the end of Empire) there was no orderly hand-over when the British left, no ceremonial lowering of the flag, no hand-shakes between the Governor-General and the incoming President, just a scramble by the British forces to get out with as much of their kit as they could carry. My father's part in the retreat, having organised the repatriation of the remaining families, was to tip Radio Aden's record collection off the Steamer Point quay into the harbour, to make sure the Communist hordes of FLOSY and NLF didn't benefit from the latest Jazz and Pop sounds (for some reason he saved one Thelonius Monk album, which I still possess).
Aden was clearly not a place for dependents, so my mother and I were packed off to the North Wales seaside town of Pwllheli, where my mother's parents lived. There my mother tried to avoid reading the newspapers, with their reports from Aden of random shootings and grenade attacks, while the six-year-old me went off friendless to a new school. I remember the terrible food and the boys' toilet, outside, in the corner of the playground, a slate urinal brilliant green with moss and with an overwhelming ammoniacal smell of decaying boys' urine. The school was old-fashioned in teaching methods and discipline – I vividly remember an assembly with a purple faced teacher standing on a stage, roaring with anger and threateningly waving his stick above his head. I never found out what atrocity it was that some child had committed, as the diatribe was conducted, like all the other business of the school, entirely in Welsh, a language I didn't know then (and still don't).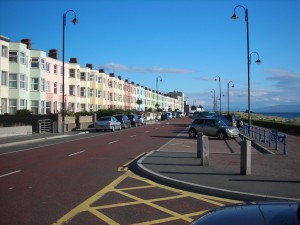 West End Parade, Pwllheli, N. Wales. A flat in one of these houses was my unhappy home for a year.
My mother must have been bored, worried, lonely. At least she had a car, a sweet little Mini, in which she frequently drove me to Caernarvon Castle, with which I became fascinated. She would take her own father on trips a few miles up the coast, to see his friend, the priest and poet R.S. Thomas. I don't exactly know what had drawn Thomas and my grandfather together, whether that was religion, or poetry, or simply a shared gloomy disposition. My grandfather died before I got to know him properly; I know he was a cultured man, though he had dropped out of theological college to become a Conservative Party activist.
Something I don't remember myself, but which my mother tells me, is that for the first few months I refused to talk about my father at all, or even acknowledge his existence. Continue reading "Land of my Fathers (and they can keep it)"